Training:

Training and Continuous Education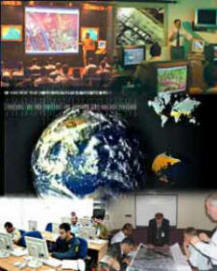 One of the most critical elements of the Space Reconnaissance Center (SRC) is the education and training of its Officers and Non-Commissioned Officers. This type of training includes fundamentals of remote sensing and applications of satellite imagery in it and derived information products, it also involves familiarization with the ways to incorporate the imagery and information products into strategic military planning operations and training exercises.
Skill Operational Oriented Training

The SRC performs local and over seas specialized trainning on application products to enable having full command on all work stages from reception to production and analysis. SRC adopts a "hands-on" training approach that aims at teaching students how to use these products, analyze and interpret information. As a result of these training courses, students can make valued judgments related to the subject matter and are made able of using the products in their simulation during crisis period. All computer-based training utilizes proven techniques and mature commercial software.